Winter Storm Quantum: Did Your Business Suffer? And Will You Be Ready When Winter Storm Remus Lands?
Historic piles of snow and ice have been shutting down unprepared businesses across the country!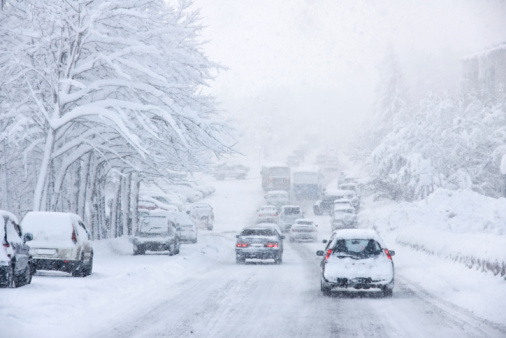 Winter is bearing down hard this year. Quantum was the latest in a series of terrible winter storms to create states of emergency all over North America, particularly in regions that don't normally experience bad winters. Over 5 inches of snow in sunny South Carolina, 6 in Texas, and another 5 in Tennessee. Roads and schools shut down everywhere as mayors and governors declared states of emergency. Transit systems shut down, flights were cancelled, businesses closed, and workers were warned to STAY HOME.
And to make matters worse, another storm is on the way. Winter Storm Remus is due to touch down soon, the 4th devastating storm in 10 days. Forecasts are calling for a stripe of accumulating snow from northeast Texas, southern Arkansas and northern Louisiana to northern Mississippi, northern Alabama, northern Georgia, Upstate South Carolina, North Carolina and southern Virginia.
How much has your business already suffered because of this terrible winter? Are you prepared to keep operations running as more snow falls?
Too many businesses just aren't prepared for this kind of disaster! When your employees can't work, you're losing more than just payroll dollars to every minute of downtime:
Costly expenses to get systems back online
Serious hit to your bottom line
Missed business opportunities
Damaged reputation
Don't be caught unprepared! NYNJA will help you keep working no matter how deep the snow is outside. We're battening down our own hatches as more snow falls, but we know we'll be prepared to keep serving all our clients in any weather. How?
It's all part of our Business Continuity Strategy:
Employees work remotely accessing work data via cloud technologies.
Important files and applications are backed up just in case in-office equipment is damaged.
Policies for completing operations from home are put in place in case the office is closed for days.
Email and phones are still running in the cloud even if the power goes out.
Automatic communications sent out to clients assuring them they'll still be taken care of during the storm.
Our employees are ready to work from home, and all our clients are still taken care of. Our Business Continuity Strategy means the workday continues even in the worst snowstorm. Can you say the same?
Don't leave your business stranded when the next storm hits! Call NYNJA at NY (845) 664-4357, NJ (201) 785-7800 to book your no-obligation business continuity assessment.